Does 'ModifyGraph standoff=0' work for multiple axes?

Tue, 11/09/2021 - 11:13 am
I am attempting to use the command "ModifyGraph standoff=0" to remove the gap between multiple left and bottom axes in a plot of mine, but it doesn't work as expected. Here's a sample image I generated from the code below: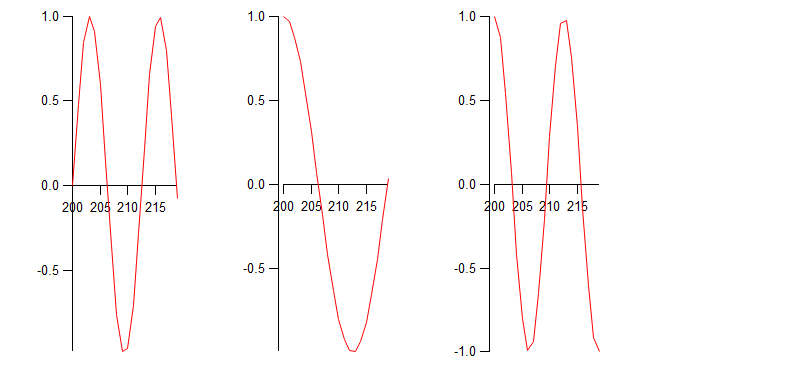 I have 3 sets of axes in one graph window - does the standoff command not work in this case? The documentation For ModifyGraph says "If '(axisName)' is omitted, all axes in the graph are affected. For instance, 'ModifyGraph standoff=0' disables axis standoff for all axes in the graph."
Furthermore, when I try to use the ModifyAxis GUI by clicking on the axes and manually checking / unchecking the Standoff checkbox, it has no effect.
The code below should generate the same issue I'm seeing. Is this expected behaviour? Thanks in advance for any insight.
Function
StandoffDoesntWork
(
)
// create test waves
NewDataFolder
/
O
/
S
root:tests
Make
/
O
/
N=
20
a =
sin
(
x
/
2
)
Make
/
O
/
N=
20
b =
cos
(
x
/
4
)
Make
/
O
/
N=
20
c =
cos
(
x
/
2
)
Make
/
O
/
N=
20
timew
// populate the fake timewave; its range is from 200-219
int
i
=
0
for
(
i
=
0
;
i
<
numpnts
(
timew
)
;
i
++
)
timew
[
i
]
=
i
+
200
endfor
// create 3 sets of axes to plot the 3 graphs
// the positions of the bottom and left axes intersect each other at zero (0) with the freePos command
Display
/
W=
(
294
,
375
,
897
,
651
)
AppendToGraph
/
L=L1
/
B=B1 a vs timew
ModifyGraph
axisEnab
(
B1
)
=
{
0
,
0.15
}
,freePos
(
L1
)
=
{
0
,B1
}
,freePos
(
B1
)
=
{
0
,L1
}
AppendToGraph
/
L=L2
/
B=B2 b vs timew
ModifyGraph
axisEnab
(
B2
)
=
{
0.3
,
0.45
}
,freePos
(
L2
)
=
{
0
,B2
}
,freePos
(
B2
)
=
{
0
,L2
}
AppendToGraph
/
L=L3
/
B=B3 c vs timew
ModifyGraph
axisEnab
(
B3
)
=
{
0.6
,
0.75
}
,freePos
(
L3
)
=
{
0
,B3
}
,freePos
(
B3
)
=
{
0
,L3
}
// attempt to get rid of the gap by setting standoff=0
ModifyGraph
standoff=
0
SetDataFolder
root:
End