Reduction and analysis of SANS and USANS data using Igor Pro
Dr. Steve Kline of the NIST Center for Neutron Research has published a paper in Applied Crystallography describing a software package for performing reduction and analysis of small-angle neutron scattering (SANS) and ultra-small-angle neutron scattering (USANS) data.
A graphical interface was developed to visualize and quickly reduce raw SANS and USANS data into one- or two-dimensional formats for interpretation. The resulting reduced data can then be analyzed using model-independent methods or non-linear fitting to one of a large and growing catalog of included structural models.
The different instrumental smearing effects for slit-smeared USANS and pinhole-smeared SANS data are handled automatically during analysis. In addition, any number of SANS and USANS data sets can be analyzed simultaneously.
The reduction operations and analysis models are written in a modular format for extensibility, allowing users to contribute code and models for distribution to all users. The software package is based on Igor Pro, providing freely distributable and modifiable code that runs on Macintosh and Windows operating systems.
Raw SANS Data Display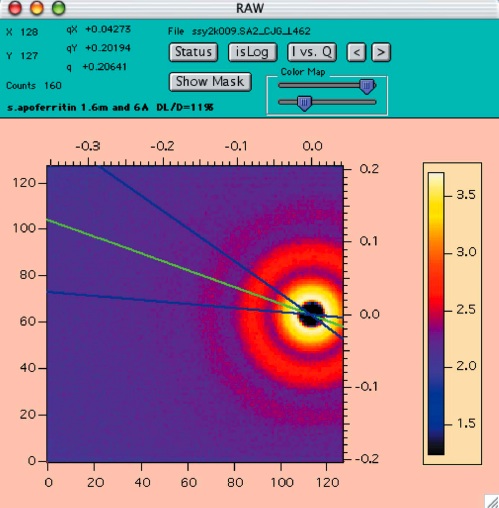 Reduced SANS Data Display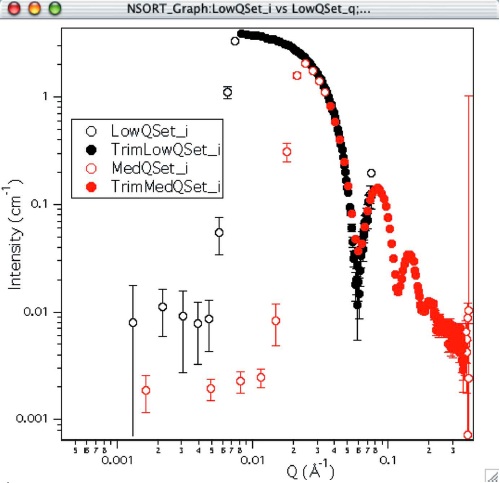 Analysis tools include model-independent calculations, linearized fitting, non-linear model fitting, and global analysis of multiple data sets. Documentation is included for every processing step and analysis model, along with detailed examples and test data.
As an experimental planning tool, it provides a valuable teaching aid to help those new to scattering to develop a feel for how different structures will scatter, and how changing experimental conditions will affect the scattering.
The source code for the entire package is freely available, allowing anyone to develop additional tools and models that can be made available for the entire user community.
Correction of raw USANS data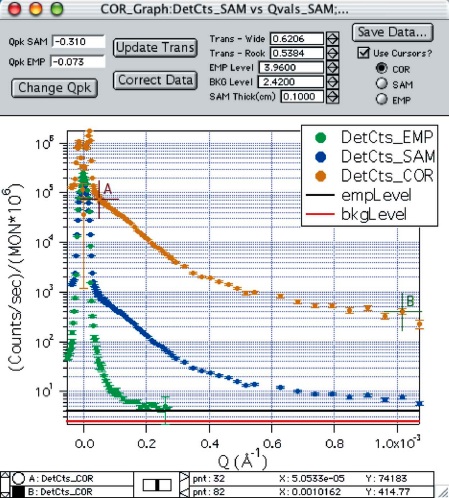 Linearized fit of scattering from a cylindrical particle