A page layout, or layout for short, is a type of window that you can use to compose pages containing:
graphs
tables
annotations (textboxes and legends)
pictures
drawing elements (lines, arrows, rectangles, polygons, etc.)
Each layout can contain any number of pages and you can have as many layouts as memory allows.
Multipage layouts, new in Igor Pro 7, can run in slideshow mode complete with presenter's notes.
Multipage layouts can be exported to a multipage PDF file.
Here is an example of a layout window.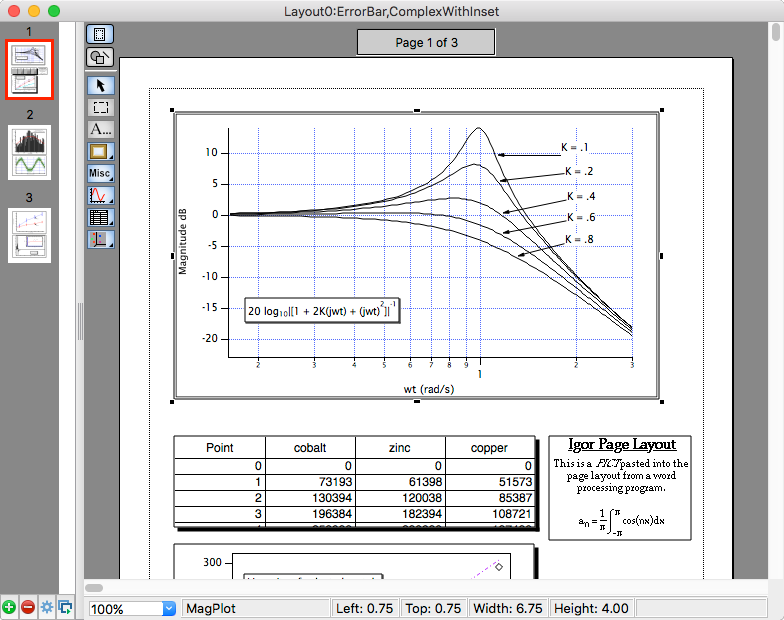 A page layout has a number of layers. One layer, the layout layer, is for graphs, tables, annotations and pictures. The other layers are for drawing elements. Here are the notable features of page layouts.
You can combine graphs, tables, pictures, annotations and drawing elements.
Graphs, tables and legends in layouts are updated automatically.
Complex graphs can be quickly and smoothly positioned.
Layouts print at the full resolution of the printer.
You can export all or part of a layout to another program.
There are two ways to add a graph or table to the layout layer:
By creating a graph or table object. An object is a representation of a separate standalone graph or table window.
By creating an embedded graph or table subwindow. A subwindow is a self-contained graph or table embedded in a layout window.