Demo Polarizations in Materials

Mon, 03/27/2023 - 03:32 pm
Overview
This self-standing demonstrations plots the optical dielectric constant for various modes in materials. The modes include electronic (atoms or molecules), ionic, molecular (permanent dipoles), and plasmons. Turn on/off modes by check boxes. Sliders set parameters related to each mode. Turn on/off the reflectivity by a check box.
Package
Experiments: Demo Polarizations in Materials (self-standing)
Help: none included
Depends On: transform axis package
Images: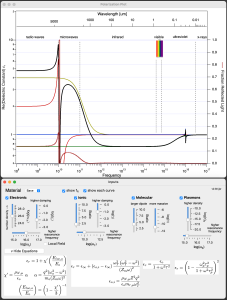 Project Details
Current Project Release
Release File:
Demo Polarizations in Materials v2.30.zip
Version:

2.30

Version Date:

Mon, 03/27/2023 - 03:30 pm

OS Compatibility:

Windows

Mac-Intel

Release Notes:

This is the first public release from a version that has undergone many internal revisions.
View All Releases