Create Layouts

Thu, 06/21/2007 - 12:46 pm
A GUI tool that makes creating a new layout easier. This is designed to be a rough replacement for the built in Igor Pro New Page Layout dialog. At this time, however, this is not a complete replacement and is lacking some functionality, including the ability to add tables to the layout. The package allows the user to control the order of the graphs placed on the layout and allows the user to see thumbnail images of the possible graphs and to select them from a list.
Images: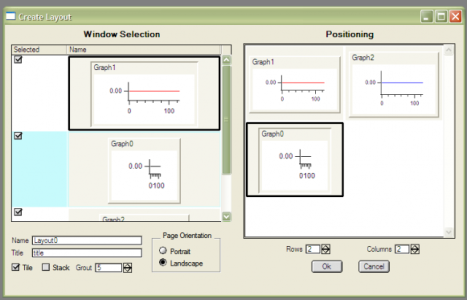 Project Details
Current Project Release
ACL_CreateLayouts IGOR.6.01.x-1.0.x-dev
Release File:
ACL_CreateLayouts-IGOR.6.01.x-1.0.x-dev.zip
Version:

IGOR.6.01.x-1.0.x-dev

Version Date:

Fri, 04/24/2009 - 02:00 pm

Version Major:

1

Version Extra:

dev

OS Compatibility:

Mac-Intel

Windows

Release Notes:
This is a development snapshot release of ACL_CreateLayouts. It is functional using Igor 6.01 on WinXP and MacOS.

This is still feature incomplete but from my testing works well.
View All Releases