DLVO Fitting Program

Fri, 04/10/2015 - 10:31 am
This program predicts the electrostatic force between two identically charged solids in solution, by numerical solution (Runge-Kutta) of the Poisson Boltzman equation (It provides solutions for both constant charge and constant potential assumptions). The electrostatic + van der Waals force (DLVO force) between the solids is also available by addition of a van der Waals Force (which accounts for a retardation of the Hamaker constant as function of distance). The program is used to determine the surface potential or charge density of your solids by fitting the predicted force to a measured force(example colloidal probe atomic force microscopy or surface force apparatus data).

The numerical solution is based upon publication by Chan, Pashley and White (JCIS 77,1,19980,283-285).
The van der Waals force is based upon publication by Hunter R.J. (Aust. J. Chem., 1963, 16, 774-8).

Notes on use as well as comments in .ipf file are included. Place .ipf file in "User Procedures" folder before opening .pxp file.


Images: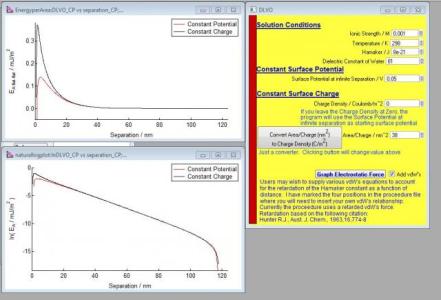 Project Details
Current Project Release
DLVO Fitting Program IGOR.6.00.x
Release File:
DLVO Fitting.zip
Version:

IGOR.6.00.x

Version Date:

Fri, 04/10/2015 - 10:32 am

OS Compatibility:

Mac-Intel

Windows

Release Notes:

PXP and IPF files included in zip file
View All Releases