NRFit

Fri, 10/28/2011 - 06:36 pm
Neutron and X-ray reflectivity analysis package:

Use Parratt formalism


Simple and easy to use


Provide a number of functions for roughness



Installation:

Option1: Download anywhere on your computer and open_file/procedure from 'File' menu in IgorPro.


Option2: Download and copy it into Igor Procedures folder in IgorPro. It will shows up in the menu.


Note: if it complains about FONT, select your favorite font and apply it to all experiments. And new users might want to turn ON Tips from the Graph menu.



Downloads:

Download a proper version (window, mac) for you. (click "View all releases" below to see all the versions on NRFit page, especially for MAC with IgorPro <= 6.0.).


Links:

Home Web Site: www.2dscience.com


Data analysis standalone software (WIN, MAC): ScienPlot


Scattering Length Density Calculator (http://www.scicho.com/sldcal/) or (http://sld-calculator.appspot.com ; limited runtime): Webapp for PC, MAC, iPhone, and iPad.

Scattering Length Density Calculator: Download a Free Android Phone App here.


...
Images: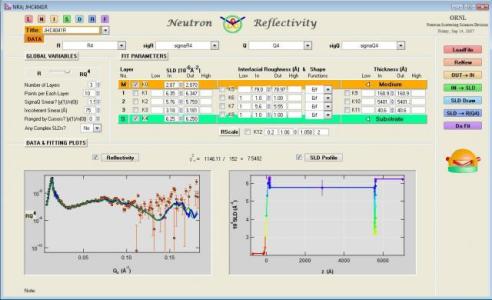 Project Details
Current Project Release
NRFit IGOR.6.00.x-6.10-WIN
Release File:
NRfit_6_1_win.ipf
Version:

IGOR.6.00.x-6.10-WIN

Version Date:

Sun, 10/30/2011 - 10:54 am

Version Major:

6

Version Extra:

WIN

Version Patch Level:

10

OS Compatibility:

Windows

Release Notes:
Windows version
Works for most of the recent IgorPro 5 to 6.22
View All Releases