Radial Profiler Demo

Sat, 05/23/2020 - 04:05 pm
This package contains a demo version of a control panel as a starting point to create radial profiles over features (blobs) in a (grayscale - 2D) image.
This package requires the Image Tools Package.
The ZIP archive contains a video tutorial of how to use the radial profiler.
The demo version will only find the blob and show the row/column profiles. Contact me off-line when you are interested in the full version.
Images: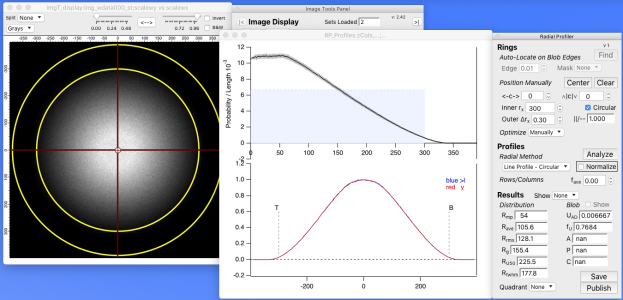 Project Details
Current Project Release
Release File:
Radial Profiler Demo v050.zip
Version:

0.50

Version Date:

Fri, 04/06/2018 - 03:11 pm

Version Major:

0

Version Extra:

50

OS Compatibility:

Windows

Mac-Intel

Release Notes:

Squashed Bugs

calculations for row/column profiles checked and rechecked
three methods for calculations for radial profile visually checked for consistency
clear button now properly clears image (except for some odd case)

Added Features / UI Changes

radial method includes standard deviation of values
expanded list of radii reported from distribution
expanding list of information reported from blob
added markers to row/column profiles to designate positions of inner ring
expanded the options for the parameters that can be adjusted to position the rings
publish graph gives radius without units

Improved Code

split sections of target finding code off to allow a user to be able to move the rings independently
made other internal changes to robustness of code
publication graphs now include file name from image
View All Releases