Radial Profiler Demo

Sat, 05/23/2020 - 04:05 pm
This package contains a demo version of a control panel as a starting point to create radial profiles over features (blobs) in a (grayscale - 2D) image.
This package requires the Image Tools Package.
The ZIP archive contains a video tutorial of how to use the radial profiler.
The demo version will only find the blob and show the row/column profiles. Contact me off-line when you are interested in the full version.
Images: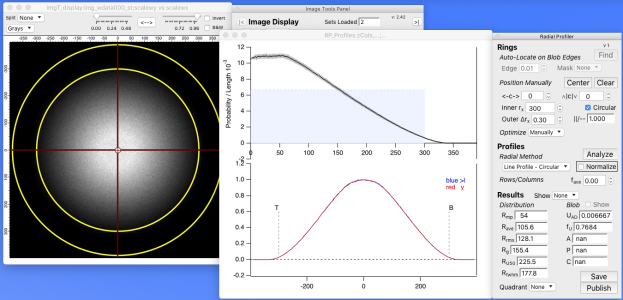 Project Details
Current Project Release
1.00
Release File:
Radial Profiler Demo v1.00.zip
Version:

1.00

Version Date:

Fri, 04/06/2018 - 03:11 pm

Version Major:

1

Version Extra:

00

OS Compatibility:

Windows

Mac-Intel

Release Notes:

Squashed Bugs

bug fixes to various UI routines
bug fixes to various internal calculation routines

Added Features

works without the need for threshold image
allows the cursors to move as inputs for position of rings
has popup option to view results

Improved Code / UI

options to move by CoM only move the center of rings (not radius)
restructured code in profiler and calculator to be in category sets

Notes

This ZIP archive has a video demonstration to show the differences between this demo version and the full version.
View All Releases