Image Tools

Wed, 08/07/2019 - 11:08 am
Background
This package is presented as a way for users to load, display, and print out summary views from sets of TIFF images without needing to write code.
Operation
Once installed, the package is accessible from the Packages->Panels->Image Tools menu.
The displayed content is divided as three frames.
An image display window shows the currently active image
A histogram display pane shows histograms below the image being displayed.
Operation of the package is done using inputs on a control panel.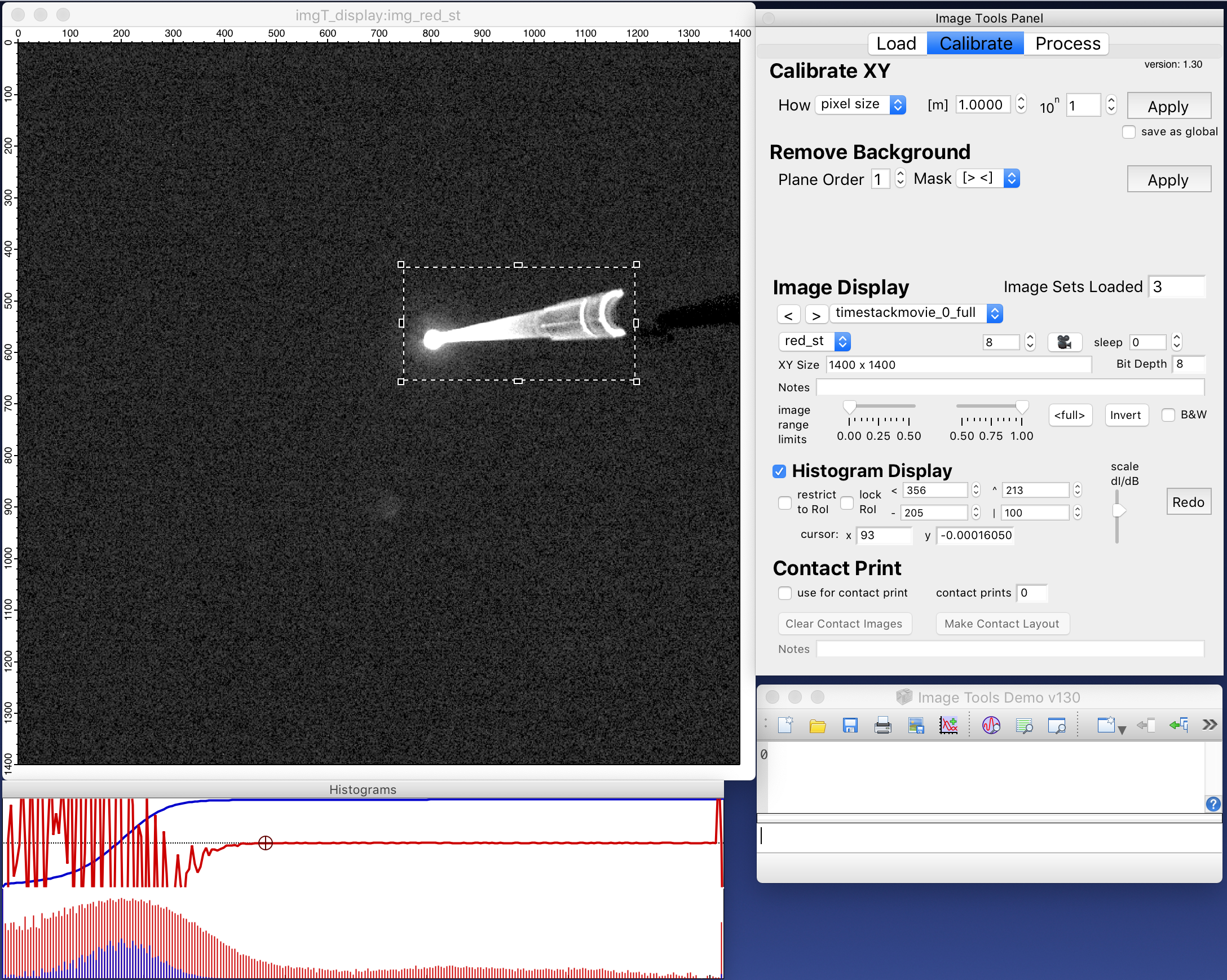 Main Tab
Image Display
Step through images that are loaded as sets using buttons to advance or go backward in the loaded sets.
See the image size (pixels) and bit depth.
Change the image range (contrast adjustments), invert, or show as black & white
View/Add notes to an image file (wave).
Show an image stack as a movie.
Histogram Display
See the histogram on linear and log scales as well as the cumulative and derivative histograms.
Hide the histogram frame when desired.
Scale the derivative histogram to search for positions of zero crossings (peaks in histogram).
Select a region of interest (RoI) to show the histograms. See where the RoI is in image coordinates.
Lock the RoI to continue using the selection tool on the image.
Contact Print
Choose one or more images to assemble to make a contact print layout (without the histogram!).
Load Tab
Load TIFF(s)
Load a single image, multiple images, a folder of images, or a selection of images from a stack.
Load a stack or multiple files as a stack.
Choose to keep the source (or not), to extract any one or all of the RGB channels, and/or to create a grayscale image.
Calibrate Tab
Calibrate XY
Set a calibration factor for pixel or image width to apply locally or globally.
Remove Background
Apply the operation to remove a background
Process Tab
Threshold
Apply a thresholding method to one image or multiple in a stack.
Future Plans
Side-by-side or overlays of two images for comparisons. Background removal on all images in a stack (perhaps also as a global on all images in experiment). Plug-in architecture for other developers.
Project Details
Current Project Release
Release File:
Image Tools v131.zip
Version:

1.31

Version Date:

Fri, 04/06/2018 - 03:11 pm

Version Major:

1

Version Extra:

3

Version Patch Level:

1

OS Compatibility:

Windows

Mac-Intel

Release Notes:

This contains the only the pxp files. The Demo package is available in earlier releases.

Squashed Bugs

fixed bugs in f_isThreshold to handle case where threshold does not exist

Added Features / UI Changes

panel controls for RoI histogram now disable/show depending on whether marquee is not/is present

Improved Code

replaced SetActiveSubWindow with correct call to ModifyControlList win=…
created function f_ThresholdExists()
created function f_CurrentImage()
View All Releases