WiRE file loader for wdf files
Tue, 06/02/2020 - 08:56 am
A file loader for wdf files created by Renishaw's WiRE software for Raman spectroscopy.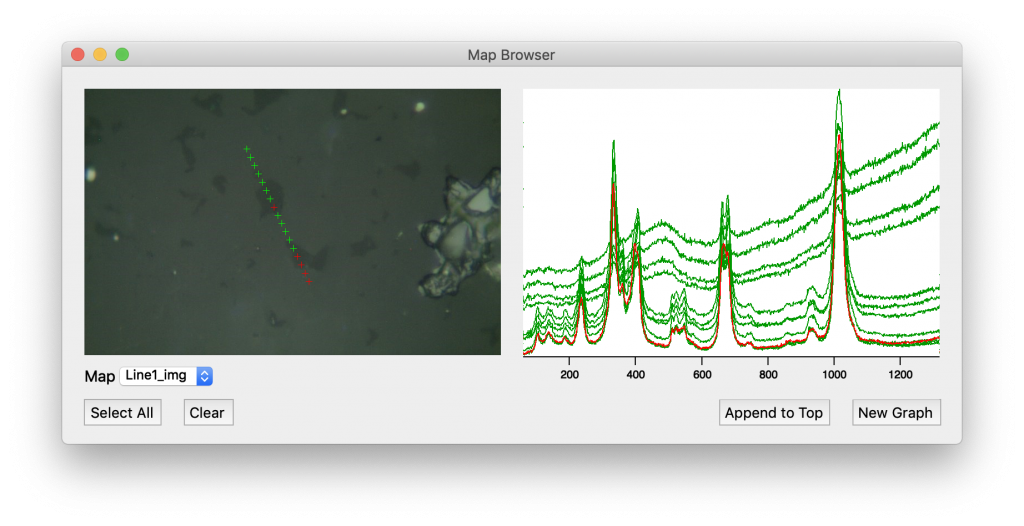 Line scans and map grids are imported as multiple 1D waves. The corresponding Raman shifts are saved in an accompanying wave. The name of the wave containing the Raman shift is recorded in the wavenote for each data wave. This allows pairs of waves to be browsed and plotted efficiently using a custom X-Y browser (I will make a separate project release for something like that). Embedded images are extracted from the wdf file and can be plotted with an overlay of map grid points. Mouseover grid points in the map browser GUI to display spectra and click to select spectra for plotting.
The project adds an item to the Load Waves menu, and the map browser can be found in the Packages submenu of the Data menu.
Note that this loader is based on some guesswork about the file structure, and I haven't tested it extensively.
Project Details
Current Project Release
WireLoader IGOR.8.00.x-1.10
Release File:
WiRE loader_0.zip
Version:

IGOR.8.00.x-1.10

Version Date:

Thu, 06/04/2020 - 06:16 am

Version Major:

1

Version Patch Level:

1

OS Compatibility:

Windows

Mac-Intel

Release Notes:

Resorted to a brute force method for locating image registration data in file.

Depth scans are now loaded correctly for the limited number of files I have available.
View All Releases