Demo Materials Oxidation Rates

Thu, 03/30/2023 - 07:18 pm
Overview
This self-standing demonstration provides an illustration for the three primary oxidation rates in materials: linear, parabolic, and logarithmic. Sliders allow you to change constants for the three models.
The axes mass and time are in arbitrary units. An educational exercise can thereby be made asking the user to determine the units on each term in each equation.
Installation
depends on nothing
download and run
Images: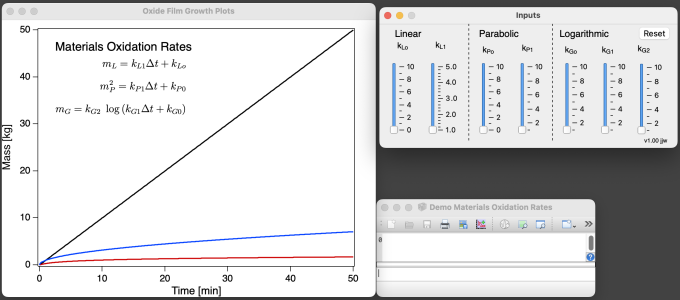 Project Details
Current Project Release
Release File:
Demo Materials Oxidation Rates v1.00.zip
Version:

1.00

Version Date:

Tue, 05/30/2023 - 07:20 pm

Version Major:

1

Version Patch Level:

00

OS Compatibility:

Windows

Mac-Intel

Release Notes:

This is the first public release.
View All Releases