CommandPanel

Sat, 12/17/2016 - 02:34 am
CommandPanel.ipf provides an alternative command-line interface for Igor Pro.
Features
bash-like alias expansion, brace expansion, and pathname expansion.
complete operation, function, data folder, wave, variable, string name.
filter outputs or completion candidates with words (regular expressions).
Expansion
Execute commands by pressing Enter.If one puss Enter without input, the command history is displayed.
Alias Expansion
alias cp=Duplicate
cp/O :wave :wave_copy
Brace Expansion
NewDataFolder sample{A,B}_{1..2}
This is expanded as follows.
NewDataFolder sampleA_1
NewDataFolder sampleA_2
NewDataFolder sampleB_1
NewDataFolder sampleB_2
Pathname expansion
You can use wildcard * in pathnames.
Display
AppendToGraph :*:wave*
Parenthesis completion
You can omit () at the first user function in each line.
DoSomething()
CompareSomething(a,abs(b))
PrintSomething("test")
These functions can be called as belows.
DoSomething
CompareSomething a,abs(b) // You cannot omit () at the second function.
PrintSomething test       // When the function take just a string parameter, you can omit "" too. 
Completion
Your input is completed by pushing Shift+Enter.

This procedure complete operation and function name. Words beginning with : are completed as pathnames.

When you push Shift+Enter without input, the output or complete candidates are scrolled down. (You can scroll up with Alt+Enter in Mac.)
Filtering
You can filter the outputs or completion candidates by pushing Shift+Enter with an input beginning with a blank character ` `.

Regular expressions can be used for this filtering.
Images: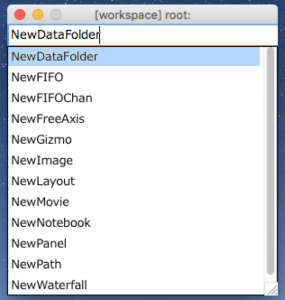 Project Details
Current Project Release
CommandPanel IGOR.6.30.x-1.0
Release File:
CommandPanel_1.zip
Version:

IGOR.6.30.x-1.0

Version Date:

Fri, 10/06/2017 - 02:43 am

Version Major:

1

Version Patch Level:

0

OS Compatibility:

Mac-Intel

Windows

Release Notes:
version 1.0
- Remove redunbant features.
- Rewrite tests with unit testing framework for Igor Pro.
- Polish the code.
View All Releases