MovieMaker

Thu, 05/01/2014 - 03:20 pm
A small procedure that allows you to make movies out of a set of 2D waves.

How to use:

1- Drag drop the procedure file onto igor and compile
2- Run "Load Panel" from the MovieMaker menu
3- Click on Test Waves to make some test waves to play with
4- Click on Preview. Make adjustments, add annotations etc. add extra commands (if any) in command boxes to run on frames.
5- Run through frames using the slider
6- Click on "Make" to export the video

notes: all the adjustments are saved inside the "MovieMaker" folder. This means that if you save the experiment, your adjustments to the preview frame will not be lost.
Images: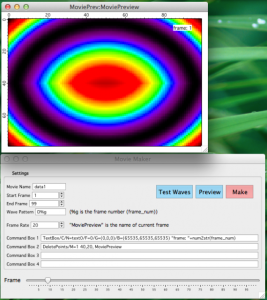 Project Details
Current Project Release
MovieMaker IGOR.6.30.x-1.0-0
Release File:
MovieMaker.ipf
Version:

IGOR.6.30.x-1.0-0

Version Date:

Thu, 05/01/2014 - 03:22 pm

Version Major:

1

Version Patch Level:

0

OS Compatibility:

Mac-Intel

Windows

Release Notes:

initial release.
View All Releases