bpc_ReadHeka

Fri, 03/04/2016 - 07:30 am
bpc_ReadHeka is an Igor Pro extension (XOP) that allows one to import HEKA Pulse and Patchmaster data files into Igor Pro.
It is compatible with Igor Pro 32bit running on Windows 32bit or 64bit, it requires Igor Pro 5 or later.
bpc_ReadHeka is based on the work of Francisco Mendez & Frank Würriehausen the creators of the PPT software package.
It is a heavily modified and stripped down version of PPT with all functionality that is not directly related to data file loading removed.

If you want to try out bpc_ReadHeka, please copy 'bpc_ReadHeka.xop' to your 'Igor Extensions' folder. The XOP extends Igor's "Data" menu by the two entries
"Import PULSE or PM file" and "Import X-Chart file" (there is no separate menu entry for bpc_ReadHeka in the main menu bar).
'bpc_ReadHeka.xop' can coexist and does not interfere with 'PPT.xop'. But it makes little sense to have both XOPs loaded.

Please note that it is recommended to copy 'bpc_ReadHeka.xop' to your private 'Igor Extensions' folders located in the Igor Pro User Files folder (which defaults to 'C:\Documents and Settings\%user%\My Documents\WaveMetrics\Igor Pro 6 User Files' on Windows XP) of each user and not to the Igor Pro application folder (i.e. 'C:\Program Files\...') itself.

I tested the import of a number of Pulse and Patchmaster data files and it worked fine. However, bpc_ReadHeka is a major rewrite and it is likely that new bugs have been introduced.
If you encounter problems, please contact the author (Holger Taschenberger, Dept. of Molecular Neurobiology, Max Planck Institute of Experimental Medicine, Goettingen, taschenberger at gmx dot net) and send a sample data file together with a description of how to reproduce the error.

Please remember:
bpc_ReadHeka works only with 32bit Igor running on 32bit or 64bit Windows. It does not and never will work with 64bit Igor or on a Mac.


Images: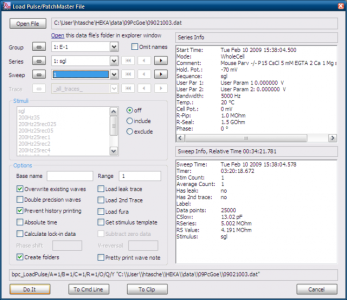 Project Details
Current Project Release
bpc_ReadHeka IGOR.5.00.x-3.022
Release File:
bpc_ReadHeka_3022.zip
Version:

IGOR.5.00.x-3.022

Version Date:

Thu, 08/18/2016 - 01:40 pm

Version Major:

3

Version Patch Level:

22

OS Compatibility:

Windows

Release Notes:
When using Igor 7, the dialog did not show up after clicking "Data -> Import Pulse or PM File". This is fixed now.
Please note that the dialog appearance is incorrect with the original 32 bit release version Igor 7.0. The data import dialog looks like what is now known as 'Windows classic theme'. This appearance is a bit irritating but without consequences for the function of bpc_ReadHeka. The behavior is corrected in Igor 7.0.1.1 which is currently available as nightly release. You may use "Help -> Igor Pro Nightly Builds" to fetch the latest nightly build or wait for the next service release of Igor 7.

View All Releases