Log Book

Mon, 07/11/2011 - 06:51 pm
Overview
This provides a control panel to input logbook information to a notebook in an efficient and consistent manner.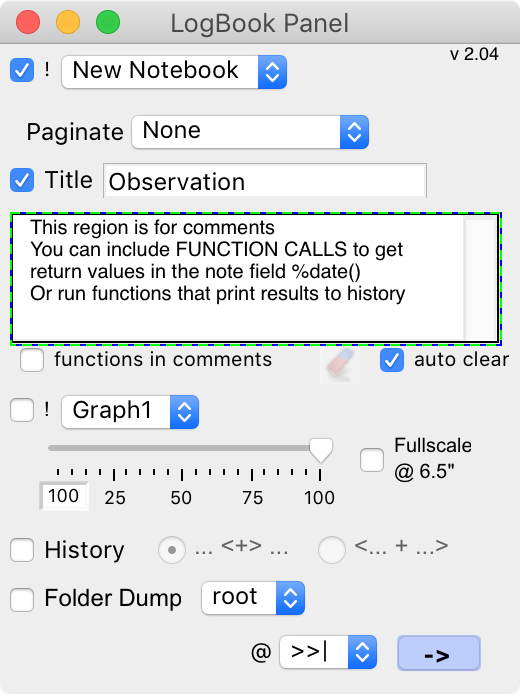 Features
The start of every notebook is stamped with the date and experiment information.
Sections are provided to grab comments, graphics, history, and a folder directory.
The input comments can contain dynamic codes to execute a function or operation call.
%date() - inserts the date at that point in the notes
%MyStringList(10) - inserts the string results from MyStringList(10) at that point in the notes
#print date() - prints the date to the history area
#MyFunction(10,3,5) - runs my function with the given parameters
#{MyOperation parameters} - runs my operation with the given parameters
Distribution Details
Experiments: none
Procedure Files: LogBook.ipf
XOPS: none
Demos: none
Requires Packages: NONE*
Benefits From: ScreenSizer
Help Files: LogBook.ihf
Other Documentation: the Web pages for this project
Project Details
Current Project Release
3.00
Release File:
LogBookv300.zip
Version:

3

Version Date:

Fri, 04/06/2018 - 03:11 pm

Version Major:

3

Version Patch Level:

00

OS Compatibility:

Windows

Mac-Intel

Release Notes:

# Bug Fixes

- now properly selects HERE location

# Improvements

- blank comment input field will not produce extra return in notebook
- compatible with Project Updater

# New Features

- now uses markdown syntax for header and subheader
- now uses markdown tag syntax for #date and #time

# Changes

- in notebook, headers are bold and subheaders are normal (reverse of previous)
- depreciating use of Package Tools commands
View All Releases