Polarised Infrared Spectroscopy: OH in Forsterite
Submitted by Tony Withers.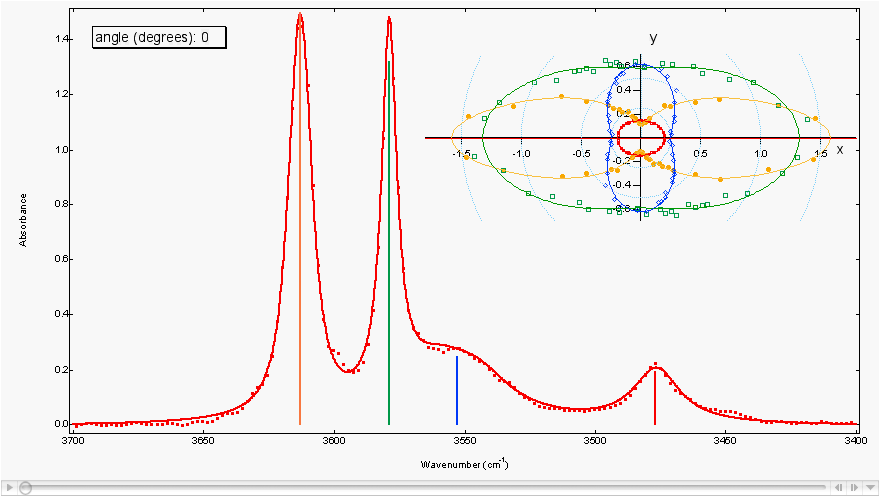 The image above is the starting frame from a QuickTime version of this updated mp4 movie embedded below:
[The] 6.5 MB QuickTime movie was the result of my first attempt at making polarised infrared measurements. The spectrum represents OH stretching vibrations in a crystal of olivine, synthesised under conditions of the earth's deep interior (80 kbar pressure, or 240km depth, and about 1000 C). The smooth curve is the sum of 5 Gaussian peaks. The indicatrix in the top right hand corner shows the height of those fitted peaks (radial distances) as a function of crystal orientation (we're looking down the c axis of the crystal). The coloured curves are fit to the polar data, and the interpolated peak heights derived from this fit are shown as vertical, colour-coded bars on the spectrum. The 'spectral data' are just linear interpolations of the real data, which gives a rough, but cool looking, indication of what happens as the polariser is rotated in the xy plane.

How this movie was created:

Experiment was performed using the multianvil in the High Pressure Lab.
Crystal was oriented using the microdiffractometer at the Institute of Technology Characterization Facility.
Spectra were collected using SpectraTech cassegrainian microscope with ZnSd polariser and Nicolet FTIR 
Peak fitting, data analysis and movie production using Igor Pro software.